Get a closer look at Broc Raiford's current Matte Dusk Fade Darkwave setup, and don't forget to WATCH THIS.
Parts List
Frame: Sunday Darkwave, 21.25″
Fork: Sunday Darkwave
Handlebar: Odyssey BROC Bar
Stem: Odyssey BROC v2
Headset: Odyssey Pro Conical
Grips: Odyssey BROC
Seat: Odyssey Big Stitch
Seat Post: Odyssey Pivotal
Crank: Odyssey Thunderbolt, 170mm
Bottom Bracket: Odyssey Mid, 22mm
Chainwheel: Odyssey Utility Pro, 28t
Chain: Odyssey Bluebird Half-Link
Pedals: Odyssey Twisted Pro
Front Tire: Odyssey BROC, 2.4″
Front Hub: Odyssey Vandero Pro
Rear Tire: Odyssey BROC, 2.4″
Rear Hub: Odyssey Clutch v2 Freecoaster, 9t
Rims: Odyssey Hazard Lite
Pegs: Odyssey Graduate, 4.75″
Broc Rides the Darkwave Frame and Fork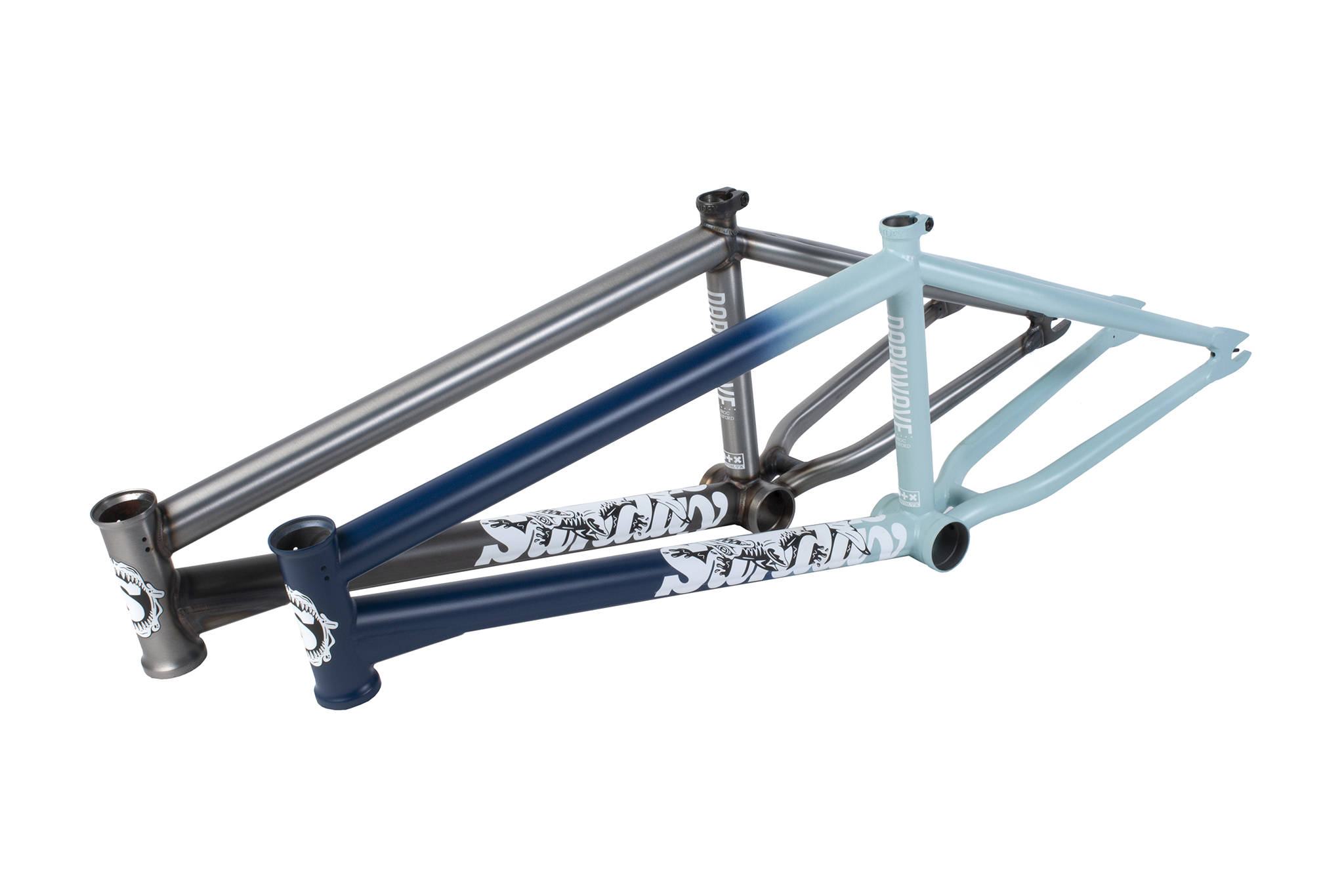 Darkwave Frame
100% 4130 chromoly frame
Broc Raiford signature geometry.
Removable U-brake hardware and Gyro tabs
Integrated seat clamp
Wave Down Tube:
Down tube dents are common with the competitor's frames and they significantly weaken the front end of your bike. The double-butted, 1.45″ diameter down-tube feature Sunday's proven Wave shaping to fight denting against contact made from a rail, ledge, coping and whatever else happens to get thrown at it.
Butted Seat Tube & Miter Cut Top Tube:
The seat tube is where all three triangles of the frame meet and it is crucial to keep this junction strong.
Tapered Chain & Seat Stays:
Both chain and seat stays taper to provide a refined and clean look to the frame while still providing strength. They are both angled on the inside for improved chain clearance and weight savings.
Hollow Dropouts with Chain Tensioners:
Hollow 8mm wide dropouts are as light as a solid 5mm dropout, but over twice as strong. There is a small internal chain tensioner to hold the wheel in position and to simplify wheel removal.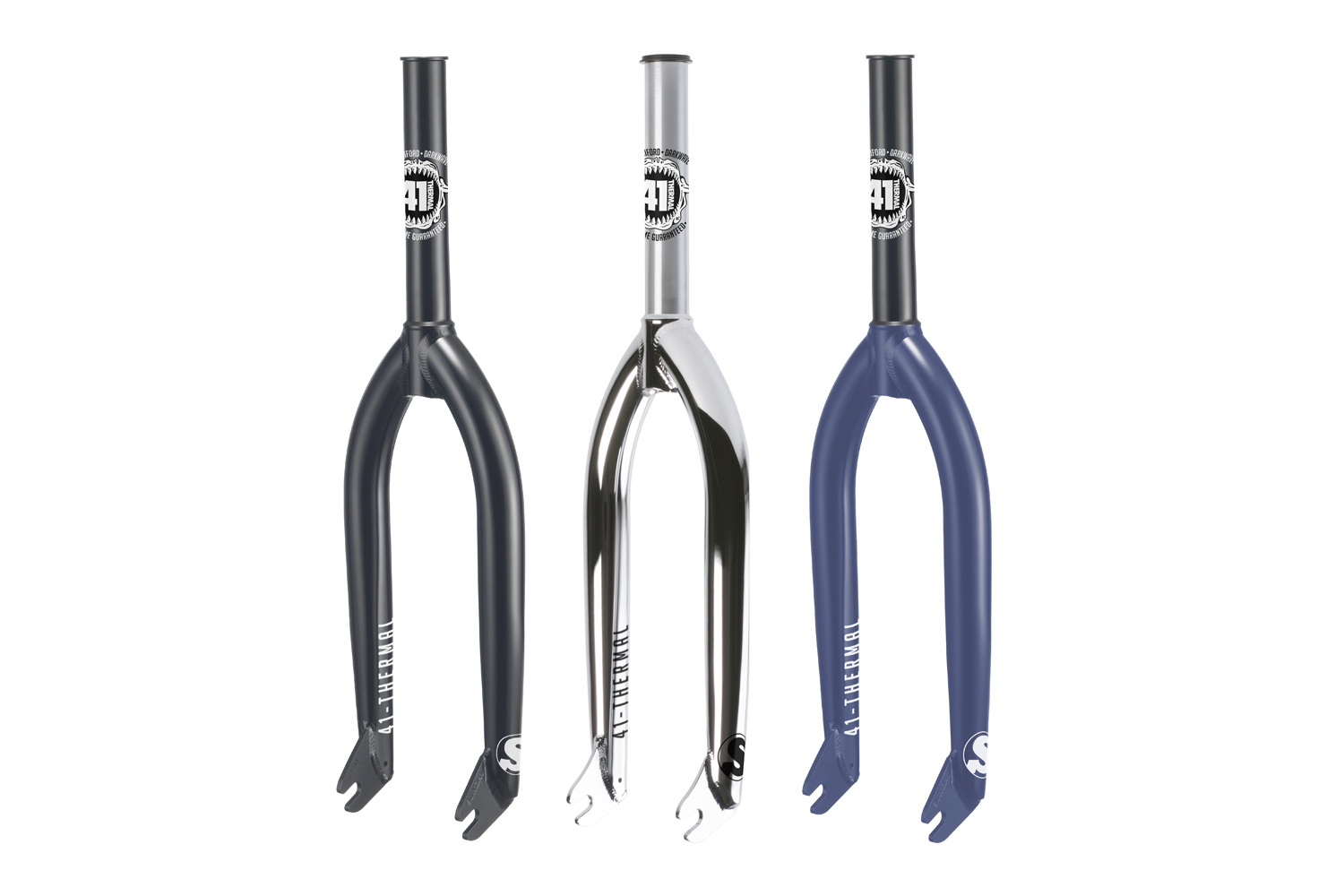 41-Thermal Darkwave Fork
Legendary lifetime replacement warranty
Laboratory tested and team proven
Custom, seamless, tapered, butted and specially formed leg tube shaping for improved grind and guard clearance
Steerer tube design improves fatigue strength and includes a built-in, integrated, lower headset seat race
Slightly longer steerer tube length for use with taller head tubes and Gyro installations
Rust-proofed with with a lightweight coating that provides the best anti-corrosion processing that's offered today.
Optimized, 4mm thick dropout shape for grind and peg clearance
7075-T6 pre-load bolt with 6 and 8mm hex key slots
41 Thermal Processed:
Sunday is the only company to use Odyssey's proven and trusted 41 Thermal heat treating. This formula has been refined and improved since the late 90's. The proven 41 Thermal process allows our products to be lightweight AND strong. It is also backed by a legendary lifetime warranty.